---
〖Features〗
★Efficient within 3 days.
★Newly added high-class maintenance ingredients.
★Meticulous research and development by biotechnology team, whole new formula for eyelashes growth.
★Upgraded the 10 years of best-selling product of leading brand of eyelashes.
★Recommended by eyelash specialists worldwide, makes eyelashes gorgeous and strong.
★Savior for those who have short and sparse eyelashes.
★Thick eyelashes brighten eyes.

〖Must Buy〗
★

Upgrade mainly ingredients for nourishing eyelashes at once

!
Trehalose★Newly added high-class maintenanceingredients!Highly moisturizing.
Deep Sea Water★Added advanced skin careingredients from Japanese! Also known as "Spring of Life", small molecules with strong penetrating accelerate the absorption of essentialingredients.
Amino Acid★The ingredients of shining hair!Moisturizes dry cuticles makes eyelashes glossy.
Thyme Extract★The top anti-aging essence of skincare products, nourishes strong, thick and longer eyelashes. A satisfyingproduct for eyelash aftercare.
Swertia Japonica Extract★Effectively activate the cells at the root of the eyelashes, make the eyelashes longer and thicker, and prevent them from falling out.
Panax Ginseng Root Extract★Delayaging, strengthen and nourish eyelash roots, and regenerate black eyelashes.
Hydrolyzed Collagen★Increasethe elasticity and toughness of eyelashes.
Panthenol★Moisturizingto avoid dry breakage.
Sodium Hyaluronate★Moisturizing eyelashes without drying and breaking.
★Exclusive brush design-The eyeliner brush is specially designed for eyelash nourishing, which can effectively brush and nourish the root of eyelashes without wasting.
★No side effects-It will not cause dark circles, dull eyelids and other problems after use.
★Necessary for eyelash extensions-Applying nourishing ingredients after eyelashes extension, it will help eyelashes healthy, beautiful, and stronger.
★Efficient within 3 days-Meticulous research and development by biotechnology team. A whole new formula for regenerative energy,  you will feel it in 3 days.
★Effective for eyebrows-Nourishing ingredients also work for eyebrow growth. Use it continuously and it is helpful for eyebrows thickness!
★Daily maintenance-No added fragrances, colorants, preservatives, , perfect to be used with or without eyelash extension.
〖Benefits〗
-Nourishing eyelashes, Provide protection, moisture and enrich eyelashes.
-With Thymosin to provide more nutrition to help lashes robust, voluminous and long.
-Non additive, spices, colorant or preservative.
-eyeliner pen design, precisely perform nourishing lotion on the root of lashes.
---
---
-Ingredients:Aqua, Hydrolyzed Collagen, Glycerin, Panax Ginseng Root Extract, Carbomer, Hydroxyethy lcellulose, Swertia Japonica Extract,Triethanolamine, Sodium Hyaluronate, Sea Water, Trehalose, Peptide, RNA, Amino Acid, Panthenol, Sodium Lactate, Chlorphenesin
-Capacity:4 ml
-G.W:30g
-Size:10.5(L) x 1.3(W) x2.5(H) cm
-Shelf life:3 years
-Stogre:Please place in a cool, dry place and avoid directly sunlight. Please use it up as soon as possible after opening, and do not contact your eyes directly
-Supervisor:Biomooi Intl. Co., Ltd.
-Manufacturing date:printing on package outside
---
---
After face washing in the morning and evening, apply it to the root of eyelashes as applying eyeliner. Make eyelashes healthy and vibrant. It can be used with or without eyelash extensions. It is recommended to use it after one week of eyelash extension to avoid the trouble of eyelashes fast growing.
1) Applying process is the same way as eyeliner. While opening, remove excess liquid on the brush by the top edge of bottle. It will avoid too much liquid from flowing into eyes.
2) From inner to outer side of eye, the essence must by applied on the root area of the eyelashes.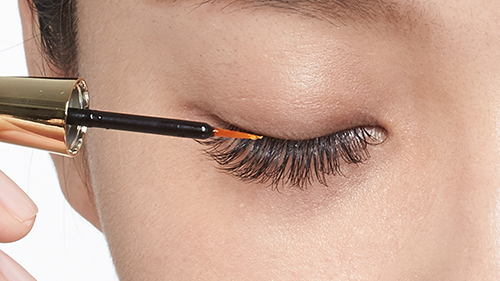 1) If the skinis abnormal or uncomfortable after use, please stop using it immediately and consult doctor.
2) Avoid direct sunlight and store in a cool place.
3) Please use it as soon as possible after opening, and do not contact your eyes directly.
---