---
〖Features〗Volume eyelashes "Thickness X Curvature" are randomly mixed, each length has 33 combinations for using.
〖Benefits〗
-Featured with all advantaged from camellia and burden-free.
-Each length, with a 0.2mm gap, different lengths, mix randomly.
-Original "natural random mix technique" each curvature will mix three kinds of thickness.
-Natural effects like a baby.
-Reduce application time and more speedy.
〖Description〗
Knowing the structure of crazy mix eyelash makes pick up easily.
-The structure of crazy mix is extend from camellia, the differentlength and randomly mix.
-Different from camellia, it has a new structure of "ThicknessX Curvature" each curvature has 33 combination.
-The combination are shown below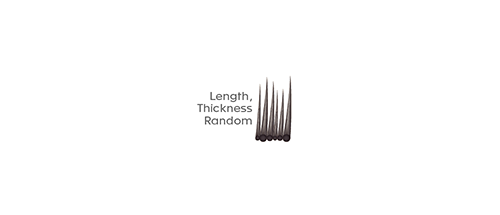 For example:Length 7-9
There are 11 different length 7.0、7.2、7.4、7.6、7.8、8.0、8.2、8.4、8.6、8.8、9.0,11, combine with 3 kind of thickness (0.04、0.07、0.10mm), get 33 combinations finally each length.
11 length x 3 thickness =33 combinations. 2)Quantity of crazy mix eyelashes

---
---
-Row:12
-Curl:C、D
-Thickness:Mixed with 0.04 mm、0.07 mm and 0.10 mm
-Length:7-9, 8-10, 9-11, 10-12,11-13,12-14,13-15 mm
-Color:Black
-Ingredients:PBT (Fiber)
-Expiration:2 years
-Storage:Please keep in a cool place to avoid high temperature and sunlight.
-R&D producer:Biomooi Intl. Co., Ltd.
-Manufacture Date:Mark on package.
---