---
1)      Easy and instant application: Two pieces in one strip, Y shape, 25°-30°angle, no fanning needed after each pickup, quick and easy.
2)      3D eyelash extension technique : One by one eyelash extension techniquewill be sufficient. Easy to speed up the extension process.
3)      Fill the gaps: Braided look of the lash strip willnaturally fill the gaps in eyelash root area.
4)      Invisible makeup look: Weaving shape with soft texture softenyour eyes looking.
5)      Suitable for customers with thin orfragile lashes
6)      Material: Made with a functional fiber called PBT (PolybutyleneTerephthalate), quick dry, non-tangling, easy care after face washing. 

〖Must-buyreasons〗 
-Easy to apply: Nofanning technique required, ready for immediate application to eyelashes.
-Perfect fanning: Consistentangles of lash fan, tidy and no-messy.
-Speedy application: Nofanning, quick and easy to fill gaps in eyelash root area.
-Pick and ready: by3D technique to create 6D volume technique. 
-Fast to create volume : Nofanning, saves time and get instant volume lashes.
-Friendly to stylist: Exclusively upgrade adhesive on lashroot, friendly design of lash board, no residue after each pickup, mix lengthsavailable in one box.
〖Whowill be suitable for 0.07mm ?〗 
 -Time is money, hurry, hurry……: No fanning needed, saves time, suitable for those who needspeedy application.
 -Preferring invisible makeup look : Differenttype of materials to create braided look, achieving a doll-innocence look and 6Dvolume looking. 
---
---
-Row:12
-Curl:C、D
-Thickness:0.07 mm、
-Length:Length:8mm 1row, 9mm 2row, 10mm 3row, 11mm 3 row, 12mm 2row, 13mm 1row 
-Weight:30g
-Ingredients::PBT (Fiber)
-Expiration:2 years
-Storage:Please keep in a cool place to avoid high temperature and sunlight.
-Supervisor:Biomooi Intl. Co., Ltd.

-Manufacture Date:Mark on package.
---
---

1、Step for pick up eyelashes:
2、Packaging
1) Packaging:Simple and eco-friendly, be clear at a glance.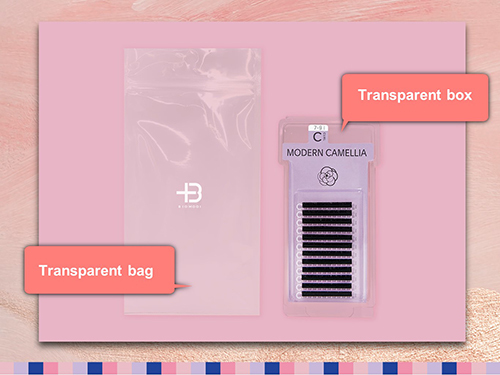 2) Detailed information on the card(Front side)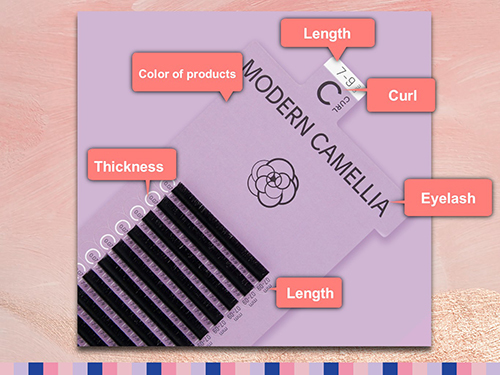 3) Detailed information on the card ( Back side)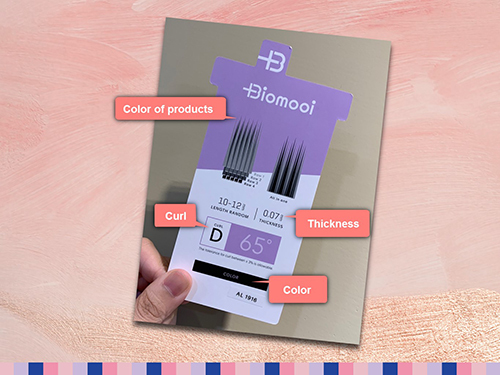 4) Easily clarify by color of card.